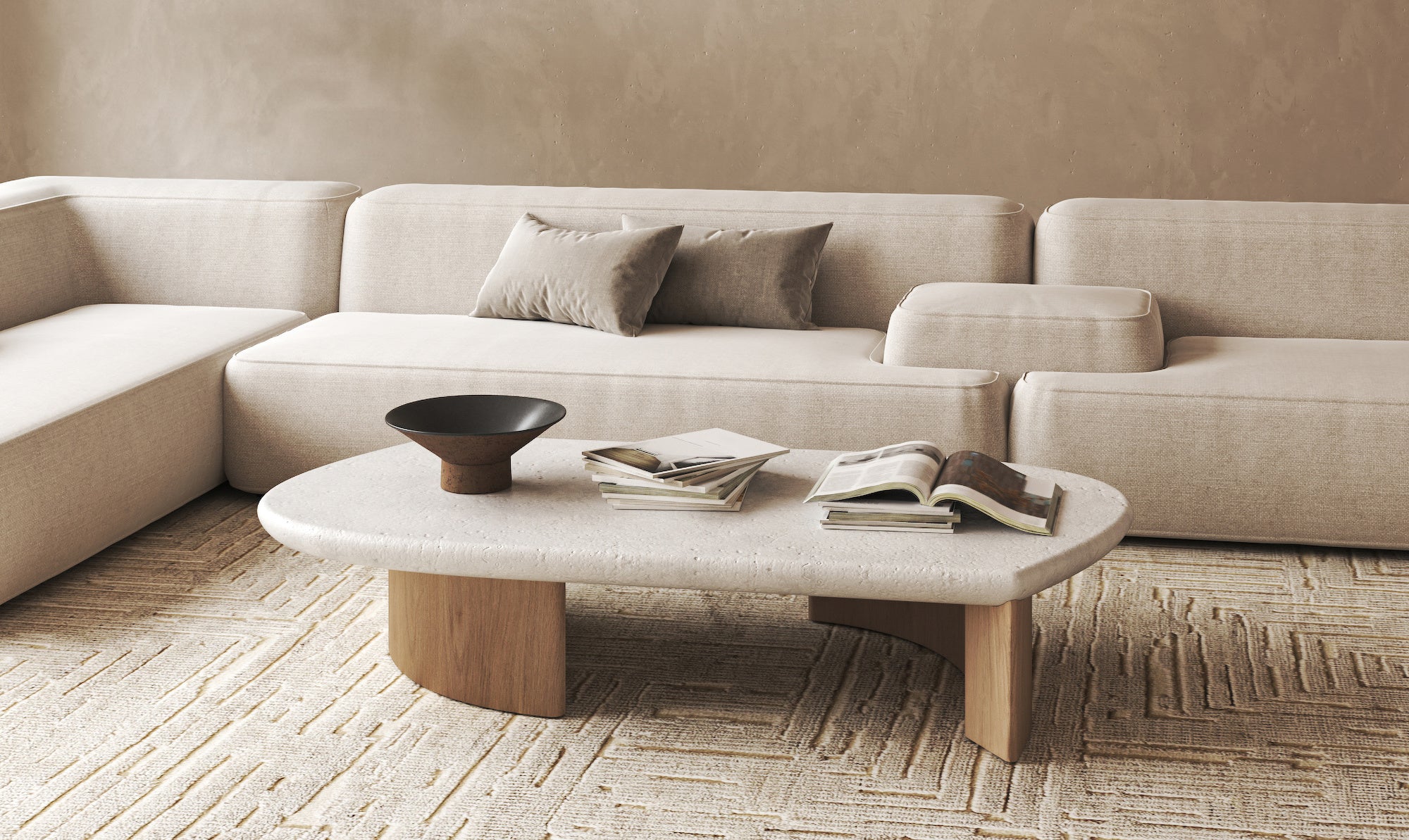 Few things tie a room together as beautifully as an area rug. In some cases, a room's design starts with the rug, setting the tone for the entire space.
Rugs add aesthetic appeal, make a space more inviting, and play a vital role in protecting floors from everyday wear and tear. But with so many options available, it's normal to be overwhelmed by the possibilities.
No matter your budget, a good rug is an investment. So how can you be sure your investment will stand the test of time? And, at the most basic level, how can you be sure it actually fits your space?
The good news is that choosing the right rug size isn't complicated - so long as you understand the basics. In this guide, we'll give you our tried and true tips for choosing a rug size.
Living Room
Layout 1: Front furniture legs on rug with at least 6" of extra rug on the sides
Layout 2: All furniture on the rug with at least 6" of extra rug on the sides
Rug Sizes: 10x14, 9x12, 8x10, 6x9, 5x7
If you have a larger living room, consider a larger rug such as a 10x14 or 9x12. This will help anchor the furniture and create a cohesive gathering space. In a smaller living room, a 5x7 or 6x9 can open up the space and make it feel less cluttered.
Whenever possible, we choose a rug large enough to place furniture on the rug with at least 6" of breathing room on either side. If short on space, we recommend placing your sofa's front two legs of on the rug while allowing the back two to hang off.
Dining Room
Layout: Rug extends under chairs, at least 8" of extra rug space on all sides, and 12" of open floor space between rug and wall
Rug Sizes: 10x14, 9x12, 8x10
When choosing a dining room rug, the two most important things to consider are the shape and size of your dining table. Usually, the shape of the rug should match the shape of the table, though rectangular rugs are by far the most versatile. To ensure that your rug fits properly, the general rule of thumb is to select a size that has at least 8" of extra rug on all sides.
Additionally, the layout you choose can have a significant impact on the final look of the room. A popular option is to place the rug underneath the dining table and chairs, but you can also opt for a larger rug that extends beyond the dining area to create a more expansive feel. This can be especially beneficial in open-concept spaces.

Bedroom
Layout 1: Rug extends under bed and nightstands
Layout 2: Rug extends under 3/4 of the bed and stops at least 8" before nightstands
Rug Sizes: King: 10x14, 9x12, Queen: 8x10, 6x9
In the bedroom, we rely on primary two layouts: placing the rug underneath the bed and nightstands, allowing for a comfortable step-out, or extending it underneath the bed and leaving at least 8" of space between the rug and nightstands. In large bedrooms with a king bed, a 9x12 or 10x14 feels balanced and has enough space to fit both bed and nightstands on the rug.
In smaller bedrooms, a 6x9 rug placed underneath a queen bed provides just enough coverage without overwhelming the space. Twin-size beds fit well above a 5x8-foot rug. In a room with two twin beds, a 2x5 fits perfectly between.
Kitchen
Layout 1: A small mat in front of the sink or stove
Layout 2: A runner that spans the length of the countertop
Rug Sizes: 2x3, 3x5, 2x6, 2x8, 2x10, 3x8, 3x10
In compact areas, such as in front of the sink or stove, opting for a small mat is a practical and stylish choice. It offers both functionality and a touch of elegance. For larger kitchens, consider a runner rug that spans the length of your counter space. Not only does it inject a burst of color, but it also serves as a protective shield against spills and stains.
Office
Layout 1: Rug extends under desk and office chair
Layout 2: Rug extends under accent chairs and coffee table
Rug Sizes: 5x8, 6x9, 9x12, 10x14
When it comes to designing an office space, many people focus on the furniture and decor, but the right rug size and layout can truly tie a room together. For the best office rug sizes, consider larger options that can cover high-traffic areas, such as under desks and in common areas. A 5x8 or 6x9 rug can be a great option for smaller offices, while larger rooms may benefit from a 9x12 or 10x14 rug.
As for layout, consider creating designated zones within the office using different rug shapes. A circular rug can define a meeting area, while a rectangular rug can anchor a workspace.
Nursery
Layout 1: Rug sits in room's center and extends under front furniture legs
Layout 2: Rug extends under designated area: bed, sofa, or play space 
Rug Sizes: 8x10, 9x12, 4x6, 5x7
A rug's size and layout can help create a cozy and comfortable space for your little ones to play and relax. One popular option is to go for a large rug that covers the majority of the room, creating a soft and cushioned surface for your little one to crawl around on. You could also opt for a smaller rug that sits neatly under their bed or play area, giving them a designated space to play and explore.
Hallway and Entryway
Layout 1: Rug extends the length of the hallway
Layout 2: Rug lays at the base of the door
Rug Sizes: 2x6, 3x8, 3x5, 4x6
Hallways and entryways are often forgotten when it comes to rugs, but they make a big impact on the overall look of your home. For hallways, runners are the most common choice - typically 2-3 feet wide and anywhere from 6-14 feet long depending on the length of your hallway.
In an entryway, a 3x5 or 4x6 rug can add a pop of color and texture to the space while also serving as a functional spot to wipe off shoes. For larger entryways, consider layering rugs with a smaller rug on top of a larger one to create dimension and interest.
Outdoor Spaces

Layout 1: Front furniture legs on rug with at least 6" of extra rug on the sides
Layout 2: All furniture on the rug with at least 6" of extra rug on the sides
Rug Sizes: 5x7, 8x10, 9x12
Outdoor rugs are a great way to add style and functionality to your outdoor spaces. When choosing a rug for outdoor use, make sure it is made of weather-resistant materials such as polypropylene or acrylic.
In terms of size, you want to make sure the rug is large enough to anchor the furniture and leave space for walking around it. For a small patio or balcony, a 5x7 rug can add a pop of color while not overwhelming the space. In larger outdoor areas like decks or poolside, an 8x10 or even a 9x12 rug can help create a defined seating area and bring the entire space together.

Need more advice? Mayker's complimentary design service walks you through a personalized process tailored to your aesthetic, lifestyle, and budget.