How to Design an Inspiring Family-Friendly Home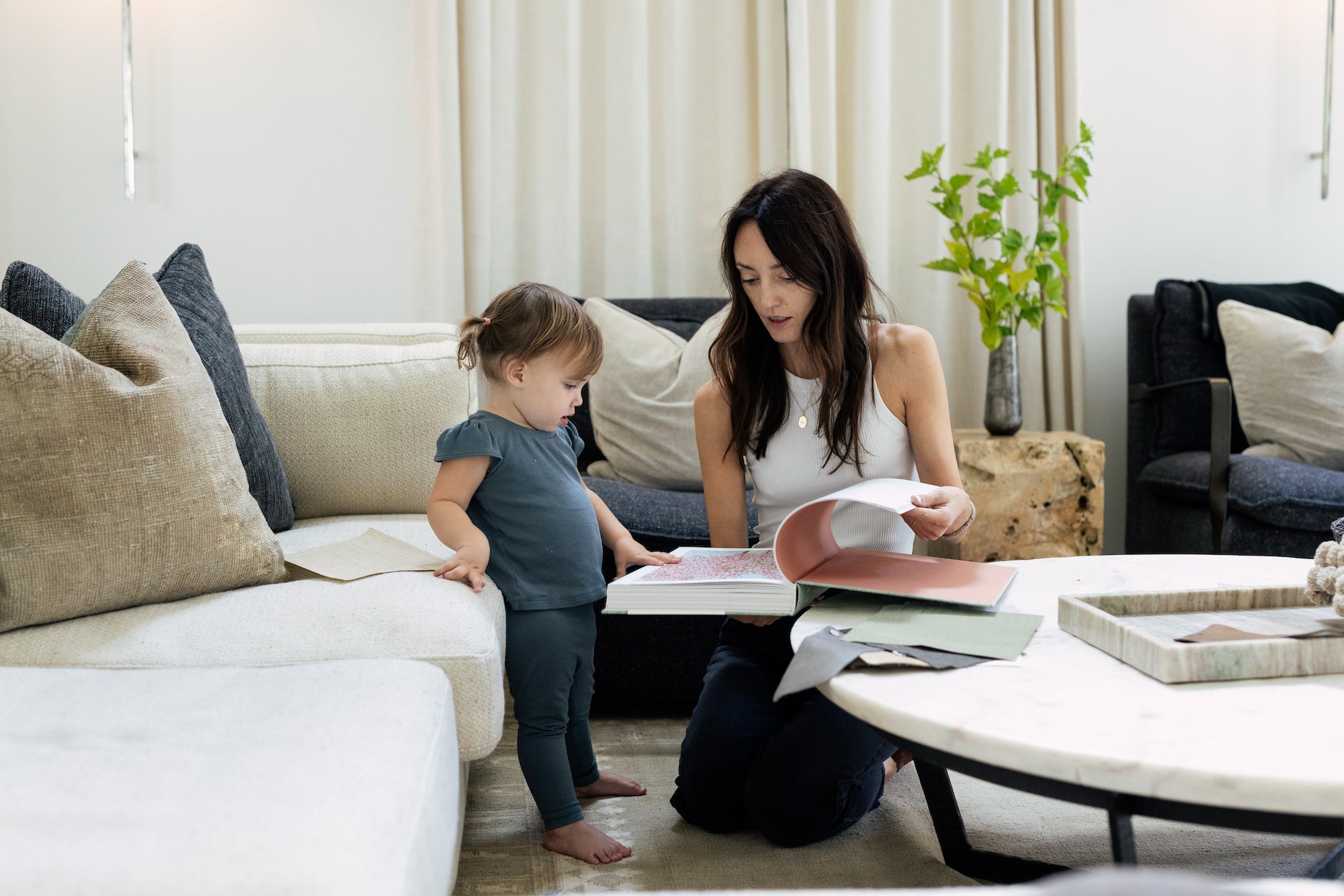 The age-old question: can good interior design and toddlers co-exist? Can watercolors and white sofas live under the same roof? 
Most people pause. And then cover everything in plastic. Surely little ones and leather can't mix and mingle. So instead of designing a home they love, they design a space that's "kid proof." 
But as I've come to find, life is short. And it's just as likely I'll spill a glass of wine as my toddler will spill a glass of milk.
So instead of waiting 18 years to live in a home I love, I'd prefer to design thoughtfully and with intention. Beauty and family go hand-in-hand. A home can reflect that, too. 
Here are seven ways to design a kid-friendly home free of plastic, pleather, and anxiety.
1. Create "high" design focal points.
Our children's hands are precious, tiny, delightful, and—their hallmark trait—grubby. Little fingers will touch and examine everything they can reach. They will leave marks and create messes of popsicle remnants and leftover mac-and-cheese. But as they say, knowing is half the battle.
For the first few years, everything within "grasping" level is fair game. So instead of fighting it, move the focal points high. Keep sentimental accessories out of reach. Focus your design moments in artwork, sculptural lighting, and centerpieces for wide tabletops.
2. Select solid pieces. 
Babies and young kids are famous for crawling and fitting into small spaces. Instead of fearing a bonk on the head or a loud bellow because they've inadvertently created their jail, go legless. Choose upholstery and tables that extend as a solid piece to the floor. No opening, no problem.
3. Avoid sharp corners.
Advice as old as parenting itself: avoid sharp edges. Children are magnets for corners. If there is a sharp corner to find, they will seek it out and greet it. Despite what you may have heard, it's impossible to baby-proof your home of all accidents.
But by going with organic, rounded shapes where possible, you will minimize the occasional duel of kid and corner. If round and flowy isn't your style, create contrast by using strong lines from the waist up. Or, with sculptural upholstery that is straight yet forgiving.
4. Go heavy.
For the first few years of a child's life, they see every object as an opportunity to display their power. They push objects to the floor like dominos. Side tables are particularly attractive victims.
Instead of skipping a place to put your coffee, look for sturdy tables. These tables won't break when your child tries to move them. Some of our favorite pieces of furniture are solid stone side tables (think: travertine or petrified wood). They're beautiful, solid, and far too heavy for your mini Hercules. 
5. Choose the right materials. 
Gone are the days of plastic sofa covers and stainable area rugs. Performance fabrics are one of the most welcome developments for young children and adults in the furniture industry. Companies are adding more choices for performance furniture fabrics. Thankfully, they realized that the white linen so popular on Pinterest is not durable in real life.
There are many types of stain-resistant, easy-to-clean fabrics. Research them, know how to care for them, and choose the best ones for your family.
6. Design your home for a family, not a kid.
When many people learn they're having a baby, they do a 180. They go from having a well-designed space to a Fisher Price theme park, covered in plastic corners and pleather. While I know these parents mean well, you need not be so drastic.
Remember, you are designing a space for your family as a whole. To create a well-rounded home, consider viewing parts of the house as pieces of pie: kid spaces, family spaces, and your spaces.
Kid Spaces
Design these rooms entirely for your little ones and their magic spirits. Enchant and engage their imaginations. These rooms will be where your children keep most of their toys and enjoy playtime.
Give in to their terrible taste in colors. Let them embrace their inner unicorns. Watch their minds come alive with delight. Give them a space to be themselves. 
Family Spaces
Remember the communal areas in your home (think: living room, kitchen), are not kid spaces — they're family rooms. And as much as you love your children, and as much as containing their spirit (and toys) can be challenging, this is your home, too. If your living room feels like a toy tornado, it will be difficult for you to unwind and relax.
So in these shared spaces, invest in closed storage. Use trunks or cabinets to hold a select arsenal of fun toys your kids can play with when they're in that space. Pack it up and put it away when they're done. Everyone can, and should, see a part of themselves here.
Your Spaces
These are the areas of your home that are just for you (think: bedroom, office.) In these spaces, keep doors closed and off-limits.
Focus on what you want. As a parent, let's be honest: it can be so difficult to keep a personal identity. So much of what you do is because of and for your child. In many ways, that's necessary and important.
But when an opportunity presents itself to do something that feels just like you, take it. Use these spaces in your home as retreats to maintain your personal preferences and help you greet each new day with fresh, inspired energy. Who knows? You might just be a better parent for it.
7. Expect casualties. 
Last, but certainly not least, this is life. And not only that, this is life with children. Things will get messy. Accidents will happen.
Know in advance there will be casualties. Someone will spill the milk. Markers will magically move from paper to wall. Glitter will infiltrate your doors and nest in your upholstery.
Since you know this in advance, you can understand a blemish on the sofa is not a blight on the world. Your family is making an imprint. And that's not only OK, that's the mark of joyful abundance.

xx, MP